The success of Thomas Piketty's book Capital in the Twenty-first Century is largely predicated on the French professor's claim that capitalism is prone to a centralization of wealth tendency, and after some twentieth century aberrations, capitalism is resuming its inevitable march towards greater and greater wealth inequality. Piketty's economic theory of why this will happen (or is happening) is summarized in the following economic inequality (so to speak): r > g where r is the returns to capital (i.e., the interest rate) and g is the economic growth rate. If it helps, one can think of these both on annual basis, i.e. the interest rate per year and the annual economic growth rate. The idea is that the wealth owners in society can sit on their riches and let compound interest increase their stacks at a rate that would outstrip the possibility of the economy growing commensurately (and thus making the gains absolute, but not relative).
Besides being intuitive, easily understandable, and encompassing, Piketty provides the data to prove that this is happening, that interest rates have been moving ahead of growth rates, especially as of late, and will do so increasingly in the twenty-first century.
But it is a flawed theory.
Consider the following graph: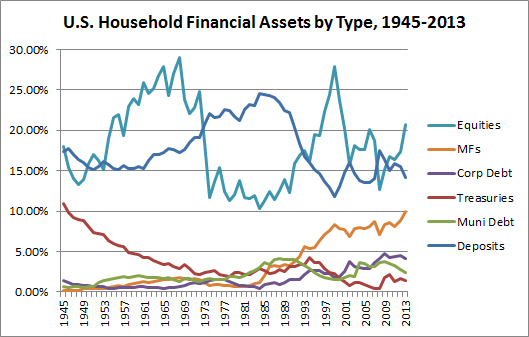 Data source: Federal Reserve: Financial Accounts of the United States (Z.1) Table L.100, 1945-2013
(Percentages are of total household financial assets, but not all financial asset classes are graphed; most of the leftovers are illiquid vehicles such as pension entitlements and non-corporate business equity).
If higher interest rates could allow capital to crowd out other determinants of national income, why wouldn't high-yield investments crowd out low-yield investments, in the long run? If people put $1,000 into corporate equities, and $1,000 into Treasury bonds, and the former returns 10% per year and the latter 5%, how long before this 50/50 split turns into 90/10? (Answer: 48 years). The reason this doesn't happen is not that some companies eventually go belly-up: the higher return rate compensates mostly for market risk, not just default risk, and in any case is inclusive of losses. The reason is that most people end up cashing out of their investment, and investment withdrawals after the returns are realized are not the same for both. The withdrawal of funds will include both principal and interest (and capital gains), and withdrawals in higher yielding investments will necessarily be larger. So the amount of funds that remain in each type of investment may remain equal, despite differences in yield.
What the graph shows is that despite the superior returns of stocks (10.9% avg. per year since 1945) over Treasury bonds (5.4%) and deposits (at most, the T-bill rate of 4.2%), stocks have not garnered an increasingly larger share of household assets. The most notable changes in investments since 1945 are treasuries' loss of favor, the emergence of mutual funds, and the rise of municipal and corporate bonds; all of these developments being partially due to a search for higher after-tax returns, to be sure, but within the context of variable risk aversion.
By Piketty's logic, people invest their assets and forget them; there are no withdrawals. What would happen if they did this in the post-war era? If the household holdings of equities at the end of 1945 ($109.7 billion) were left in the stock market, with no additional investments and no withdrawals, using the S&P 500 returns for each year since then, that original investment would have been worth $124 trillion at the end of 2013. The other household liquid investments (worth $499 billion in 1945) would have also increased, but due to lower rates of return, not nearly as spectacularly, to about $3.6 trillion. Piketty's logic would be vindicated, as equities go from comprising 37% of liquid financial assets in 1945, to 97% in 2013! Presto, the miracle of compound interest would allow equities to crowd out the weaker financial instruments.
But that's not what happened. In reality, households held $13.9 trillion in equities at the end of 2013. Where did the other $110 trillion go (not to mention all the new money people have invested in the stock market since 1945)? Companies distributed it in dividends, investors withdrew their gains, and these moneys were not reinvested; they were spent. And what about the other liquid investments? Instead of being worth $3.6 trillion, people held $21.5 trillion in these other instruments in 2013. With these, people spent some, but they additionally invested a whole lot more. Like a grand exercise in dollar-cost averaging, people on balance put more in to the lower-yielding investments and took more out of the higher-yielding investments.
Saving in investment vehicles is not driven solely or even principally by a desire to accumulate as much wealth as possible; this goal is balanced by investors' risk tolerance and desire for liquidity. And these may cause people to invest in instruments in inverse proportion to their yields.
Not only does this disprove the idea that high-yield instruments will crowd out low-yield ones, but it also shows that the re-investment rate on household savings is quite low, in the case of equities around 11% (and if we accounted for additional investments in the stock market since 1945, certainly less than that). This may not seem intuitive. Most investors probably think they re-invest their gains a majority of the time. Until, that is, they consider that when they cash out to buy a house, or pay children's tuition, or live a comfortable retirement, that consumption eliminates all the re-investments of dividends and capital gains along the way. And whether they do this after a year, a decade, or a lifetime, that is money that is no longer accumulated wealth.
What Piketty stumbled across is the difference between gross investment and net investment. There are three variables involved in the calculation of the change in the capital stock: (1) capital inflows; (2) capital gains/losses; and (3) capital outflows. Piketty only considers (2) (which he takes to be equivalent to a summary interest rate, undifferentiated by risk or duration), perhaps expecting that (1) and (3) cancel each other out. But precisely because investments have capital gains, the outflows may be quite a bit larger than the inflows.
Piketty appears to be somewhat aware of this flaw in his theory. He says on page 361 of his book:
The fact that the return on capital is distinctly and persistently greater than the growth rate is a powerful force for a more unequal distribution of wealth. For example, if g = 1 percent and r = 5 percent, wealthy individuals have to reinvest only one-fifth of their annual capital income to ensure that their capital will grow faster than average income.
So essentially his theory is really this: If the portion of r that is reinvested exceeds the growth rate, capital will grow faster than income. In light of the household assets statistics referenced above, this modified reading is crucial. From what I could tell, only one other place in his book does he ackowledge this (p. 351). Everywhere else, he writes as if the mere imbalance of r over g will cause wealth inequality to increase. Either he thinks that the reinvestment rate approximates 100%, or he conveniently ignores the possibility that people will spend their investment gains (and in many cases the principal too).
And isn't the converse also true? That is, if the re-invested portion of interest is less than the growth rate, won't inequality contract? If the interest rate is 3.9% (as Piketty stipulates for the period 2012-2050 in Figure 10-10 of his book), and the re-investment rate is in fact 11%, it seems that by Piketty's theory we will be continuing a period of diminishing inequality, if we can muster a growth rate of 0.43%. Piketty himself estimates (worldwide) growth to be 3.3% (in Figure 10-10). So if it is to be believed, Piketty's formulation r > g indicates precisely the opposite of what he predicts: wealth inequality is destined to decrease.
I for one don't think that will happen either, at least not by virtue of Piketty's theory. That's because Piketty's theory doesn't make sense anyways; it has causation backwards. Savings do not accumulate because of low growth rates; growth occurs because of savings and capital investment (and many other things besides).
If there was no economic growth, industry itself (in the aggregate) would also not grow, from the simple fact that no one is more productive than the previous year nor do people have the money to buy anything more than the current output level supports. As Keynesians have been claiming for decades, supply can't create its own demand. And if it could, then you would have positive economic growth. The fact that you don't means that the current aggregate level of capital is not increasing. That doesn't mean that there are no returns to investment. People still invest in companies, and companies still make profits. But in the aggregate, these companies do not grow, because by definition they are producing the same level of output. Widget Maker operates fifty-seven stores, just like it did last year, makes some level of profit, replaces capital equipment that is worn out, and returns the rest as dividends to its shareholders.
In other words, in a no-growth economy there are no economy-wide net retained earnings that are invested in new capital stock. In some industries there would be new capital stock, while in others capital stock would be liquidated. But the aggregate capital stock would be unchanged, despite savings and financial investment. If you did have aggregate net retained earnings, then you'd have capital gains equivalent to the amount of additional capital stock that could be created by these earnings, and that additional stock would mean commensurate additional growth. The increase in the net capital stock, what Piketty claims r is, creates new productive capacity that adds to economic output, i.e. it creates economic growth.
Without stating the above, but perhaps anticipating it, Piketty looks for a way out. With zero growth, aggregate capital will not increase unless industry invests in (non-maintenance) capital anyways, despite its inability to be more productive. That is, as Piketty tells it, unless the capital-to-income ratio (his "Second Fundamental Law of Capitalism"), a ratio of the savings rate over the output growth rate, increases over time. This formulation has been debunked elsewhere, notably by a paper, Is Piketty's \Second Law of Capitalism" Fundamental? published by Per Krusell and Tony Smith of the NBER. It shows conclusively in theory and empirics what makes sense to all students of economics: the interest rate is not a given, but rather determined by supply and demand factors known to savers and investors, and savings and investment will thus respond to a lack of increased demand (due to stunted population growth, so forth) by not contributing increased supply. To think that an average corporation in a no-growth economy will pay 5% interest on capital they can't even invest is ludicrous.
Just as the balance of investment holdings is not determined solely by their yield, the balance of labor and capital in an economy is not determined solely by their return rates. The interest rate is as much a function of people's need for capital accumulation as capital accumulation is a function of the interest rate.
The real value of Piketty's formulation is to remind us that investment in capital is intimately tied to economic growth. Economic growth demands investment in new capital, and while taxes on capital may make economists feel like they are solving problems, they will surely impede economic growth. And the real danger of Piketty's policy prescriptions is that taxes on capital reduce economic growth, causing adherents of his theory to call for even greater taxes on capital. The result of such a vicious cycle may increase inequality or it may decrease inequality. But it will surely hurt economies and leave everyone worse off.